MULTI-PLATINUM SONGWRITER
Harold Payne is a multi-platinum and Posi award-winning songwriter whose soulful uplifting songs and husky heartfelt vocals have graced stages around the world. He has written songs for such diverse artists as Rod Stewart, Patti LaBelle, the Temptations, and long time collaborator, Bobby Womack—literally from Peter Paul and Mary to Snoop Dogg. Most recently, Rudimental reached #1 on the UK album charts containing the Womack/Payne song "New Day", "Daylight" charted with Kelly Rowland plus the CD "Bravest Man in the Universe" which was co-written by Payne, Bobby Womack, Damon Albarn (Gorillaz) & Richard Russell (XL Recordings) received the prestigious "Q" award in the UK for "Best Album of the Year."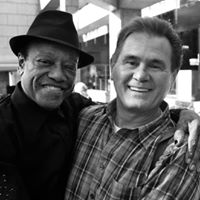 Harold's latest CD "Possibilities" contains his hallmark uplifting & positive songs, which, combined with his notorious improv ability has led to multiple appearances with motivational and inspiring presenters like Kyle Cease (Evolving Out Loud), Mark Victor Hanson (Chicken Soup for the Soul), Jim Cathcart (the Acorn Principal) along with the National Speakers Association conference, Contagious Optimism Live & TEDx Del Ray Beach.
PERFORMER
Although a major part of Harold Payne's career has involved songwriting, he has maintained a performance schedule over several decades averaging over 200 dates per year. Harold has played just about every imaginable venue… from amphitheaters, festivals & Houses of Blues to corporate events, houses of worship & house concerts. He has opened for the likes of Van Morrison, Kenny Loggins, Heart, Emmy Lou Harris, Air Supply & Hawaiian legend "Iz" (Israel Kamakawiwo`ole). He was also invited by Jimmy Webb & Paul Williams to perform their songs at tribute concerts, and created customs songs for Regis Philbin, Al Pacino & Bob Cavallo. Most recently, Harold has created a one man themed show called 'Under the Radar Over the Moon.'
At every performance he presents at least one "ON THE SPOT" improv creation, which is truly his musical signature! He often uses his uncanny gift for spontaneity to create recap songs, of talks just presented. Harold's custom material for various tributes, "team building" and leadership activities help make special events more entertaining and interactive, while still imparting important content. All of Payne's performances are soulful, heartfelt and humorous.